Picture: Mr. Khang Nguyen, AKT Service Director, in an interview by Ho Chi Minh City Television, on his events business and translation career
Question 1: You and I have met at numerous events where you were the interpreter and helped translate Vietnamese into English and vice versa. Can you tell me a little about yourself, your education and your company, how you got started, why you like what you do and how many associates work with you? Can you also let us know about some of the major events that you have supported and perhaps the biggest challenge you and your company have had in supporting a major event?
Answer:My team and I have been working for events in which translation on the fly – or simultaneous interpreting – is required. I graduated with an M.A in Linguistics, so my career started with university lecturing. I was a Vice Chief Editor for a bilingual English-teaching newspaper for 5 years. While teaching, I was asked by some clients to organize training courses for their staff regarding business English and working skills.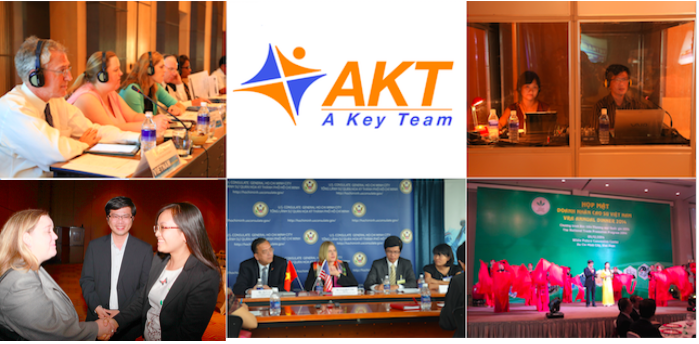 Martjin van de Groep, a Dutch expert in climate change, described what we do in a very interesting way, "Your simultaneous translation is both an art and hard work, bringing the clients considerable advantage" in saving time, effort and money which otherwise would be wasted without good, exact and efficient translation.
We started 15 years ago when there was very few such events, today there are 10 of us in the core team and a number of collaborators, not including a team of well trained staff to work in other service areas. We all were trained in languages, and each of us is specialized in a number of fields. Most of us have worked for international organizations, for example I myself was a Country Manager for a company based in the UK with a manufacturing facility in Vietnam. From time to time you will see me in public, like Hochiminh city television, in talk shows on developing the labor force for global integration, English learning and live events which need real time interpreting.
We have supported the clients who need us in thousands of events, including government level meetings, NGO work, business and investment forums in and out of the country, social and human development, inauguration of facilities and programs, highly technical seminars, press conferences, synopsis, skills training, sales team training, cultural exchange activities, etc. These events have covered a wide range of topics from the steel making industry, education, banking, railway, expressway construction, climate change, water management, health care, pharmaceuticals, business expansion, building distribution networks, and many more where we helped to give our clients confidence of success. My team and I can be seen working in events last week including USTDA press conferences, FDA inspection in Binh Duong, and a meeting between my corporate client and the Deputy Prime Minister in Vung Tau. Interpreting for an important event is both demanding and enjoyable. The demanding part is there is no place for a novice in our field. The enjoyable thing is how to get to the point where we professional interpreters can relax and bring success to our clients.
Question 2: Being an effective interpreter is something I very much admire because I know how complex both English and Vietnamese can be. English because it has many exceptions and complexities on pronunciations and conversion and Vietnamese because the tones of the language and also because of the changes in the language as root words were taken from Chinese and other languages. Can you discuss a little about the two languages and how being "the best interpreter out there", I know that is a goal you have, relates to these?
Answer:You are absolutely right to mention the differences in the two languages. When we work, listening is the most important factor, as we will be translating from the speaker's words, not from pre-written notes. You do have slides and documents beforehand, but the speaker can tell jokes (the nuances of which are hard to translate), comment on a fact he previously mentioned, reply to a question raised by a member of the audience, or simply does not want to speak from his prepared materials at all. Then the skills of an interpreter, both verbal and non-verbal, together with their knowledge of the topic, will come into play. Audiences find it easy to understand our translation, which is why they decided to hire us in the first place, and also why we take pride in performing this kind of work.
I can recall a number of instances when the speaker says something in English, then halfway through the sentence he decided to change the idea, giving rise to a change in linguistic structure, requiring the conference interpreter to change the Vietnamese language structure accordingly in real time…which is not always possible due to the fact that Vietnamese is not necessarily built in the Subject – Verb – Object order. Most important of all, that change should not cause a "bump" in the flow of speech. Moreover, translators also have to adapt to various accents, as speakers may come from different parts of the world. We often say to ourselves, "Being a good interpreter is demanding, but being a 'smooth operator' translator is an art." I would not say we should consider the top position in the career as the most important goal. Our team, called AKT – A Key Team, bring effectiveness and efficiency to our high-profile clients. That is our ultimate goal.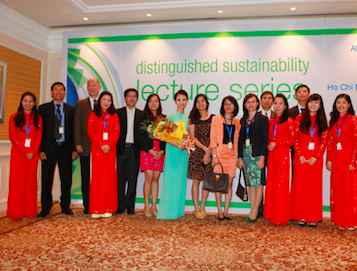 Question 3: Many businesses coming to Vietnam at some stage will hire an interpreter. Can you tell our readers how the best companies can judge the quality of an interpreter and then work with him or her to get the best and most precise language interpretation?
Answer:Definitely. Language is a barrier, and some companies have understood this the hard way. They spent hundred of thousand of dollars for an event, or research, but sometimes due to limited resources they could not find and hire a reliable interpreter. The rest was history.
There are more and more advances being made in all fields, and Vietnam is a developing country. Therefore, many topics that our clients talk about in the conferences or seminars are new to Vietnamese people. Even some concepts are not present in the Vietnamese language. In such cases, our experienced translators must find ways to help the clients reach their goals.
To know if a translator can guarantee the linguistic success is easy. One has to read the interpreter's profile, their references, important events he or she worked in during at least the 5 recent years. Please note that public speaking skill is a plus, as the interpreter must "talk" to the audience, not read like a tedious recording machine. A follow-up talk via telephone with the interpreter also helps. If all is agreed, a pre-event meeting is a good thing to do, for both sides to know how to work together well. May I say that this should not be an interview, but rather an information-sharing meeting. This is a matter of finding a reliable person, as when you come from another country, you are not expected to know the system of qualifications, no matter how many certificates a person can have, or show you. That is why we name our company "AKT – A Key Team": You want effectiveness. Now you have it, with us.
Question 4: Interpreting in a major event like the Vietnam Oregon Initiative (VOI) event supported by Becamex that I recently met you at in Binh Duong and where you were interpreting for the whole morning must get tiring because of the need to concentrate on what is being said and also because of the differences in interpreting so many speakers and different subjects. How do you deal with this and how do you keep you focus?
Answer: We have a good team and we work as a team, that is why we can keep ourselves focused and perform the translation accurately and smoothly by taking turns. The team member is an important factor. If I did not have such a good team, I would feel too unsure to let them translate.
Your concern about an interpreter being tired makes perfect sense. This is not a pleasant thing for the event, as he will begin to bore the audience. We know that well when going to conferences in the role of businessmen, not as a translator.
For the various subjects, no, they may not cause problems if the interpreter is well prepared with the provided documents, coupled with his or her eagerness to dig into the topic. It is a well-known saying in our job, "Translation for a 3 hour event requires 9 hours of preparation". I would say it requires more than just that! My team and I are people who are eager to learn anytime, anywhere, open our minds by reading, traveling, talking to people to equip ourselves with knowledge on history, culture, business, technology, etc. to use in our career. Again, our clients will benefit from this fact.
Question 5: Besides supplying high quality interpreters, what else does AKT do? Are they based on your strengths of professionalism and good English?
Answer: We provide clients with one-stop-shop solutions for their events. Coming to a new country, with many things you are unsure about, you may want a reliable team that can organize events, provide excellent interpreting, good translation of documents, arranging logistics, tea break, equipment, lunch, lighting, and so on. We can do that successfully by having a network of professionals.
Also when a client's company is having an intention to enter Vietnam, but has not invested heavily on it, we can help by working as an outsource provider with excellent English command and lean structure. You do not have to fly in and out just to find an office, do the staffing, writing job descriptions and similar stuff. This is a cost-effective solution for SMEs who want to "test the water" before setting foot in the local market.
And when the time is right, the companies may want to have a physical presence in Vietnam. We can facilitate them by establishing a legal entity, do the staffing, training of staff for them. Again, that is why we call ourselves AKT – A Key Team. You have a key team to work with you and for you in this market.
Normally when companies do business in a new market, they do not have local insight, language, behavior, etc. We can serve as a bridge in this mission, with our understanding of the local market, professionalism of staff and good language command.
Question 6: Assuming that a business in Vietnam or considering coming to Vietnam was to want to contact you and your company, can you give us your contact details and any other relevant details?
Answer:We have a website: www.akt.vn, which is a landing site for our services. Clients can contact us at biz@akt.vn, or phone +84-98-279-4979. Our AKT company office is located at Indochina Park Tower, 04 Nguyen Dinh Chieu, District 1, HCMC, Vietnam.
Khang, this has been an interesting and informative interview for me. The importance of interpreting, translation and getting the message right in a foreign language, foreign culture and foreign country is something that many companies don't really think through carefully. Thank you for speaking to www.business-in-asia.com.